Nueva Andalucia – Marbella's Golf Valley
| AREA GUIDES
The beginnings of Nueva Andalucia
Nueva Andalucia was born from the hands of the famous José Banús, who landed in Marbella in 1962 with an idea, then insane for some, to create a stunning nautical port and a residential area, acquiring the land that today houses this wonderful urbanization.
Later, in 1965, the construction of Puerto Banús began, as well as the neighboring residential area which started with the creation of Las Brisas Golf club, designed by the prestigious architect Robert Trent, both inaugurating 3 years later in 1968.
In the 70s, in the eastern area of ​​Nueva Andalucia, Inmobiliaria Bilbao built the Aloha Golf course, around which they began to promote the construction of imposing villas and residential complexes that would later consolidate the area as one of the most desired.
Los Naranjos Golf Club was presented in 1977 in the western part of Nueva Andalucía, also designed by Robert Trent, thus concentrating on just three kilometers in diameter the 3 best golf courses on the Costa del Sol.
Marbella's international clamor
Puerto Banus became an international clamor thanks to the success of the Marbella Club hotel owned by Prince Alfonso Von Hohenlohe, which by this time already attracted the highest echelons of media figures and aristocrats, such as Khashoggi, the Thyssen-Bornemisza, Edgar Neville, the Bismark family or Jaime de Mora y Aragón.
Nueva Andalucia, also known as the golf valley, has been strategically designed to attract golf lovers as well as tourists and residents with select tastes, being conveniently located in its proximity to banks, schools, shopping centers, restaurants with a wide range gastronomic offer, and of course the famous Puerto Banus harbor with boutiques of the most select brands, as well as yachts and sailboats worth seeing as we stroll at sunset.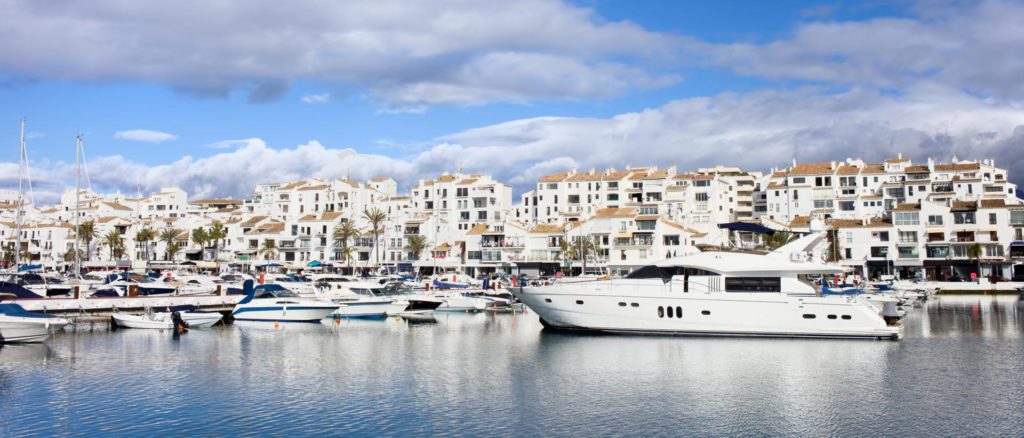 Properties in Nueva Andalucia
Since the 70s the construction has been very varied in terms of the type of properties and architectural styles. From stunning frontline golf villas to gated townhouses developments, to apartment complexes with stunning ocean views.
As for architecture, Andalusian style predominated in traditional construction, but in recent times we have observed how the vast majority of properties have been modernized according to current demand.
With 30 years of experience in the real estate sector in the Nueva Andalucía area, Terra Realty has a wide selection of properties. Do not hesitate to contact our team of experts to offer you personalized advice.
Writen by Patricia Durán | Apr 13, 2020
Properties in Nueva Andalucia