Aloha Gardens and Los Dragos, Marbella
| AREA GUIDES
Aloha Gardens and Los Dragos are two urbanizations nestled in the heart of the Golf Valley of Nueva Andalucía, Marbella. Indeed, both are south of the Aloha Golf Club, an 18-hole course with beautiful views of La Concha, fitness centre and a fine-dining restaurant.
Aloha Gardens
Aloha Gardens is a gated resort of low rise homes built in 1992. It follows a traditional style with unique charm and cobblestone floors reminiscent of a small Andalusian village. It is made up of nine blocks with one to three bedroom apartments and townhouses.
The complex offers three swimming pools, a fully equipped gym, sauna, lush gardens, fountains, waterfalls, security services and surveillance cameras. One of the pools is heated during the winter. Its surroundings are full of supermarkets, restaurants and shops. Right at the doors, there is a very cosy cafeteria with a terrace where you can enjoy the sun and beautiful views of the waterfalls.
Being a perfectly located complex with a multitude of facilities at hand, acquiring a property for sale in Aloha Gardens is an ideal decision for permanent residence. In turn, the fact that it is an urbanization that is highly demanded by tourists makes it very profitable for investment purposes.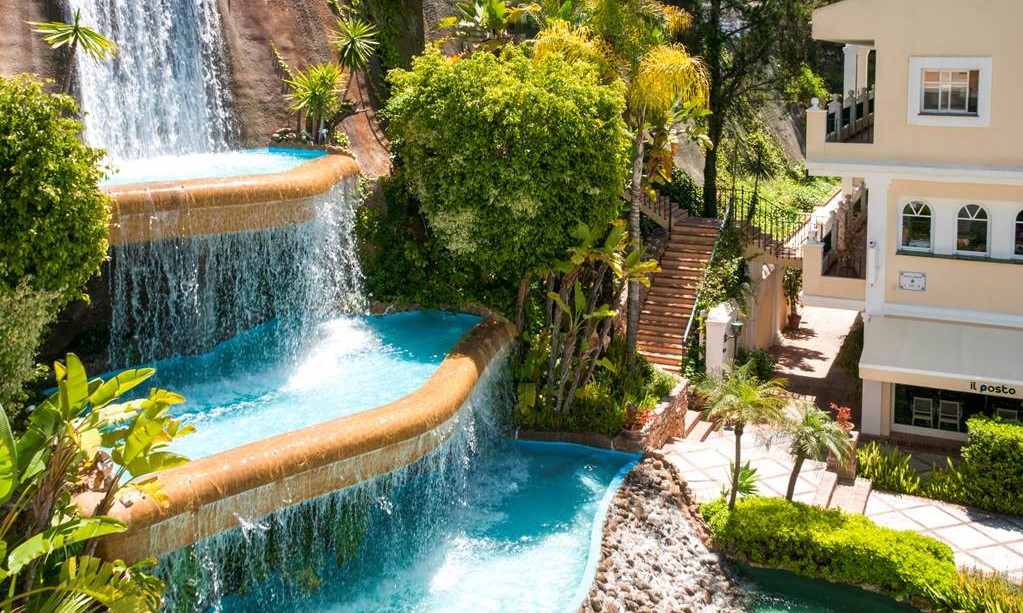 Los Dragos
Only one street separates Aloha Gardens from Los Dragos urbanization. It is a residential complex whose houses are distributed in the shape of a horseshoe, surrounding the community pool. The first line of houses that border the pool are independent bungalows with maximum privacy. The second-row blocks are divided into two apartments, ground floors and duplex penthouses, with between two and three bedrooms. The latter have very sunny terraces on the upper floors with impressive views. While the ground floors offer direct access to the gardens and the pool area. In general, most of the units enjoy magnificent views of the La Concha mountain and the Aloha Golf Club, with which it adjoins.
The complex has video-monitored parking within the enclosure, a tennis court and a gym. This makes buying a property in Los Dragos synonymous with tranquillity and quality of life.
Its location is one of the best in Marbella. In addition to being on the first line of the golf course, in its surroundings we find a wide variety of services.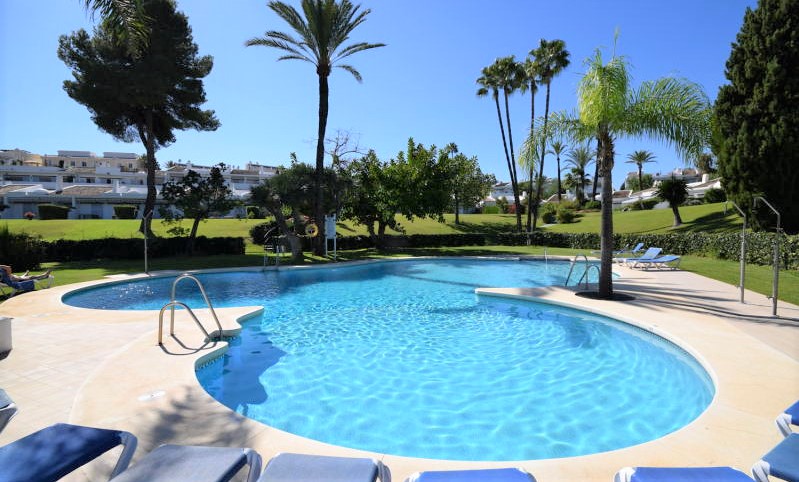 The area of Nueva Andalucia where these developments are set has a very difficult location to improve. A few steps from them there are numerous restaurants with different types of cuisine, cafes, bars, pharmacies and other shops. In just over a kilometre we find Aloha College Marbella, a private bilingual centre established in 1982.
For golf lovers, it is the flawless place. In addition to the Aloha Golf Club, several highly regarded courses host the district. The Real Club de Golf Las Brisas, Los Naranjos Golf Club and Magna Marbella Golf are within a five-minute drive. Another course to highlight is La Quinta Golf & Country Club, less than ten minutes away.
The famous Puerto Banus is a few minutes away by car. A place full of restaurants, shopping centres and streets with boutique stores of the most exclusive brands. Likewise, ostentatious boats and yachts worth seeing dock here. A beautiful promenade borders its beaches, where you can enjoy the sun and the sea breeze in one of the beach bars it houses.
The site is very well connected to the highway, through which you can reach the urban centre of Marbella in a few minutes, Estepona and Benahavís. This situation, added to their characteristics, makes them two of the most attractive resorts on the Costa del Sol.
Writen by Laura Martín | May 28, 2021
Properties in Los Dragos and Aloha Gardens