Benahavís – A natural paradise
| AREA GUIDES
Extension and history of Benahavís
With an area of ​​145.8 square kilometres, Benahavís is a striking town set in a green valley surrounded by majestic mountains a few kilometres from the sea, between Estepona and Marbella, with which its municipal district borders. It is well known for the attractive atmosphere of its sunny squares and its narrow, white streets, typically Arab, where there are great restaurants that have made its renowned gastronomy and its extensive leisure offer famous. For many, it is the most picturesque municipality in Andalusia, since its privileged location, surrounded by peaks, on the foothills of the Sierra de las Nieves, in the foothills of the Serranía de Ronda make Benahavís a truly natural and tourist treasure, ideal to go hiking and enjoy a landscape like no other.
Benahavís is the culinary centre or ''The dining room of La Costa del Sol'', with the highest concentration of restaurants in the region, as well as an unbeatable and incredibly varied offer. Restaurants with tradition, tradition and years of experience show that in Benahavís the word gastronomy is written in capital letters and is one of the greatest attractions for lovers of good food and exquisite treatment in a unique environment. This culinary habit intends to keep up with the Hispanic-Arab Hospitality School, which has been training professionals in the sector for more than 10 years.
As for sports, Benahavís is a destination full of options. With its more than 320 days of sunshine a year, outdoor activities are part of the lifestyle of most of its inhabitants and visitors. Being a paradise for golf enthusiasts by having in its surroundings nine of the sixty golf courses of the Costa del Sol such as Flamingos Golf Club, La Quinta Golf & Country Club, Club de Golf El Higueral or Los Barrancos de La Zagaleta, we can also include a wide variety such as hiking, biking, horse riding, canyoning, rafting and much more.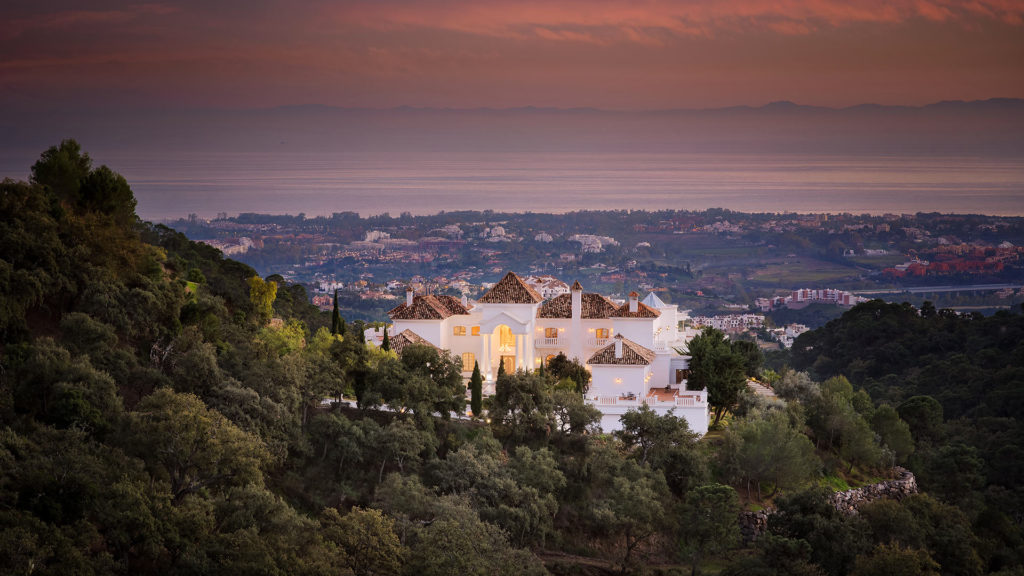 The areas within the municipality
Being an oasis of calm with a great reputation, grandiose luxury developments and numerous residential areas of villas have chosen Benahavís to settle, integrating the modernity of its infrastructures in its splendid nature.
This is the case of La Zagaleta, the most ostentatious private, exclusive and vibrant real estate refuge in Europe built to the highest standards among holm oaks and pines. Measuring over 900 hectares in a fenced natural setting comprising around 300 built homes and abundant undeveloped plots, it combines contemporary aesthetics and an environmentally friendly affiliation that makes each villa exceed each client's expectations. It presents distinguished services for community members such as an 18-hole golf course, riding club or private transportation service. Here you can see a selection of exclusive properties in La Zagaleta.
La Quinta is an idyllic place that offers the highest quality of country life just 15 minutes from the intense life of Marbella. It is located in a subtle valley south of Benahavís and encompasses a more varied range of homes. It combines all the comforts with "The Westin La Quinta Golf Resort & Spa", an exquisite 5-star hotel whose spa includes a long range of services such as beauty treatments, fitness facilities, swimming pools, a children's club or restaurants. It is adjacent to '' La Quinta Golf & Country Club '', undoubtedly the centre of activities in the area with a bar, lounge, magnificent terraces and an excellent restaurant. Here is a selection of luxury villas in La Quinta.
Los Flamingos is one of the most attractive places on the Costa del Sol just a few minutes from the beach, with open spaces so that nothing interrupts the panoramic views of the Mediterranean Sea, the Rock of Gibraltar and Africa that the complex offers. It is located in a peaceful valley with a natural lake that gives its name to the complex, several golf courses that surround it such as "Los Flamingos Golf & Country Club" and the well-known hotel "Villa Padierna Palace", one of the best from Europe and the one chosen for Michelle Obama's stay in 2010. These villas reflect very well the essence of Los Flamingos.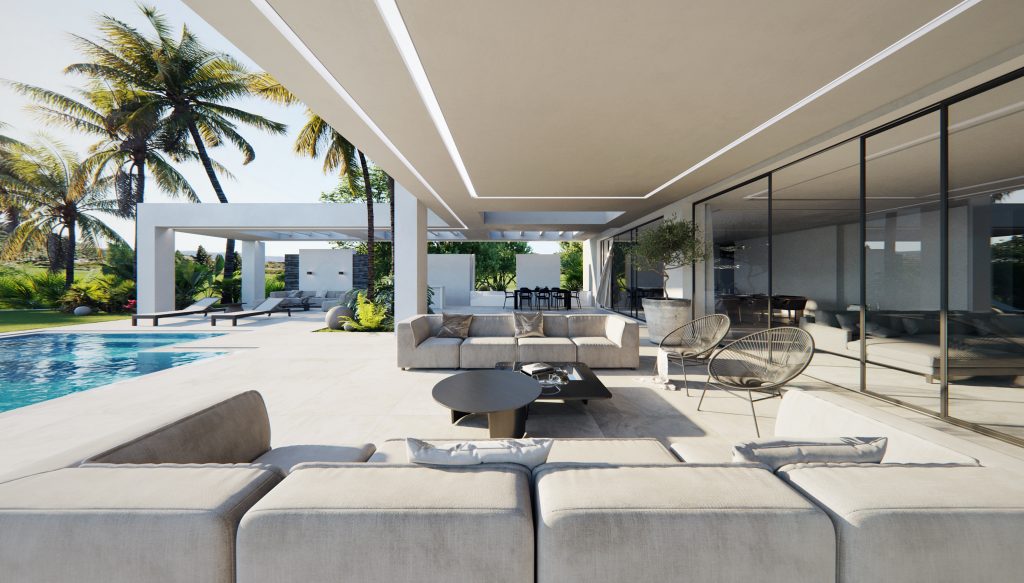 Los Arqueros is a private community of urbanizations of both apartments and independent villas with beautiful views of the mountains and the golf course from every corner. It is a very quiet residential area near Benahavís, Marbella and Puerto Banús. Its challenging 18-hole, par 71 golf course was inaugurated in 1991 and designed by Seve Ballesteros to test the development of both amateur and experienced golfers, with water hazards and some narrow fairways that force you to think about which club to use. It has additional facilities such as the Los Arqueros restaurant enclave, tennis and paddle courts, meeting room, shop and a golf academy.
El Madroñal is nestled among the folds of the Benahavís hills, overlooking the lush green of the golf courses and the dazzling Mediterranean Sea. The exclusive villas in El Madroñal have a modernized coastal style that blends with the relaxed and pleasant atmosphere of its valleys and vegetation.
Puerto del Almendro is located under Los Arqueros, at the foot of the Serranía de Ronda, a few minutes from different golf courses and Puerto Banús, and a stone's throw from San Pedro Alcántara. A very quiet place, with hardly any traffic, with a pleasant and relaxed atmosphere, close to the beach area but still having enough height and inclination to offer fantastic views. Puerto del Almendro consists of spectacular villas with gardens and ideal apartments in an exclusive community with both indoor and outdoor swimming pools, gym and a fabulous spa.
The variety of properties offered by all these influential urbanizations and some more such as El Paraíso or La Heredia constitute Benahavís, one of the most demanded, charming and fastest-growing references on the Costa del Sol where you can enjoy nature, exquisite gastronomy and endless possibilities in a unique first level destination located in a wonderful landscape on the slopes of the Serranía de Ronda.
Writen by Laura Martín | Nov 20, 2020
Benahavis properties for sale